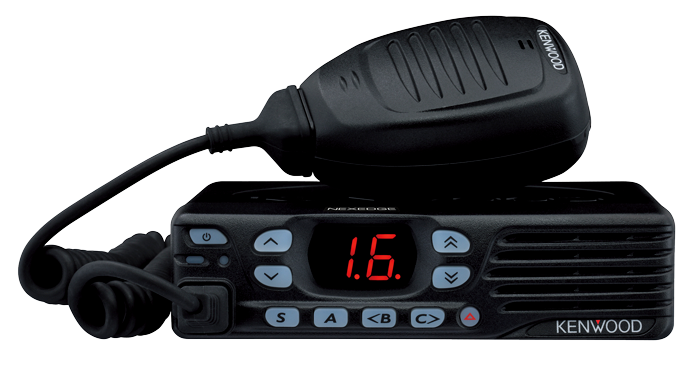 Downloadable Documents
—————-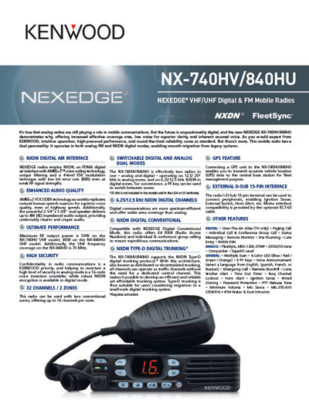 User Guide
Contact us for Pricing & Availability
View all Current Promotions
NX-840/740
The high-power NX-740H/840H offers increased effective coverage area, low noise for superior clarity, and inherent secured voice.
NEXEDGE® is Kenwood's innovative digital radio system, designed to meet the highest demands of today's radio system environment and to provide users with a multitude of NEXEDGE®-abilities to transform their demanding daily operations. Designed on a new NEXEDGE® platform featuring proven NXDN™ technology with an affordability for every budget. These new NEXEDGE® mobiles come standard with a host of features sure to exceed the needs of many demanding applications and is the ideal analog to digital migration choice utilizing true 6.25 kHz technology providing the important elements of design, features, reliability and overall value.
Below is a brief list of features. For a complete list of product features and specifications, please download the product brochure.
FEATURES
50 W (136-174 MHz) Model
45 W (450-520 MHz) Model
Max. 16 CH per Zone
2 Conventional Zones
2-Digit LED Channel Display
Function/Status LED Dots
Backlit Keys
Transmit /Busy / Call Alert LED
Blue Function/Status LED
9 Programmable Function Keys
Emergency / AUX Key
4W Speaker Audio
Voice CH# Announcement
DB15 Accessory Interface
8 Programmable I/O Ports
KPG-175D Windows®: FPU
MIL-STD-810 C/D/E/F
IP-54 Water & Dust Intrusion
PC Serial Interface
GPS Receiver Option